We have been very busy but had a wonderful time the past week visiting Jackson & Memphis, TN and Dyess, AR. WS Holland (drummer for Carl Perkins and Johnny Cash) graciously invited us to his home in Jackson for a jam session and visit with himself and Ron Haney. We also had the distinct pleasure of visiting the original Sun Records Studio in Memphis as well as taking in the remarkable restoration of Johnny Cash's boyhood home in Dyess, a must visit place for every Cash fan. If you would like to see photos from our experience please click the photo of us with WS Holland.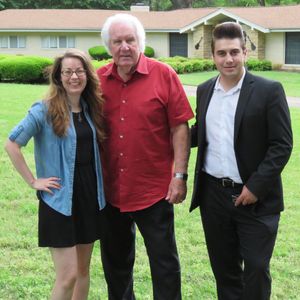 Concluding that visit was our debut performance in Memphis, TN for Elvis enthusiasts at one of Elvis' favorite hangouts "Dad's Place". We look forward to returning for Elvis Week in August, more to come about these performances soon! 
Of course we are also excited to announce our return to Winnipeg for Unreal: Canada's Ultimate Tribute Festival at the Assiniboia Downs on July 7th and more summer shows that are now up on the website. Make sure to visit our SHOWS page for details and keep an eye on Facebook for updates as more dates are being added very soon! 
-A.R CASH