We hope you are enjoying the long summer days. For those in Manitoba we are headlining the Rosenort Summer Festival on Saturday night Aug. 24th. The talented duo LRae & J will be kicking things off at 7 with comedian Matt Falk then A.R CASH is taking the stage a little after 9 pm. 
Tickets are on sale now for our next event in Winnipeg raising funds for St. Nicholas Catholic Church on Oct. 4th. Tickets are also on sale for our return to the Esterhazy Legion Hall in Saskatchewan on Oct. 11th. Make sure to visit our SHOWS page for details.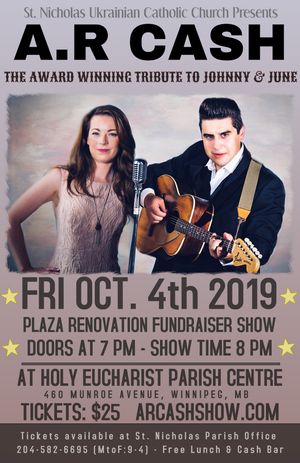 Coming up: We have been honored with an invitation to perform at Nashville Cowboy Church from Joanne Cash Yates, youngest sister of Johnny Cash and Dr. Harry Yates on September 15th. The program is broadcast into over 110 countries, reaching millions on WSM Radio (home of the Grand Ole Opry), WWCR (World Wide Christian Radio) and streamed live on MusicCityTelevision.com. The Sunday morning service is held at 10 a.m. in the Texas Troubadour Theatre (across from the Opryland Hotel). We are also looking forward to joining Joanne at the Josie Music Awards on Sept 21st where she's received several award nominations as well. More exciting things are in the works so stay tuned!